About Us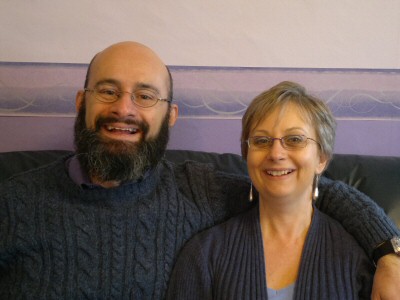 Behest Computer Services was founded in 2009 by Steve and Heather Belleguelle.
About Steve
Steve graduated from Nottingham University in 1991 with a 2.1 BEng (Hons) degree in Electrical and Electronic Engineering. Since then he has worked in computer hardware and software development. In academic circles he performed research and development work in the Computer Science Department at Nottingham. In commercial circles, he has spent time developing computer software for Sage in Gosforth and software and hardware for a small company that provided systems to the airline industry to read passports and other identity documents.
Wherever he is, Steve usually finds himself helping people with their computers. When they were in Canada for the year in 2005 Steve set up two computer suites in the church they were volunteering at - one for the youth of the church to use for fun and the other for distance education Bible college students using the church as their place of study. In 2004 during a trip to a Mexican orphanage with a Canadian team from the same church, Steve spent time repairing and updating the assortment of computers there.
In 2008, when Morpeth was flooded and the library had to shut leaving the town without its most popular public internet access point, Steve set up a suite of computers with internet access at New Life Christian Centre for the public to be able to use.
Because of his background and experience, Steve has a very good grasp of how computers work (and how they go wrong!) both in terms of hardware and software, so your computer is in good hands when you ask for his help.

About Heather
Heather also graduated from Nottingham University with a degree in French and Russian, but her real benefit to the partnership comes with her abilities as an administrator.
Heather was instrumental in the establishment and obtaining charitable status for the Mustard Tree Trust, a youth and children's work charity now based in Ashington and well known throughout Northumberland schools. For several years she was the administrator for New Life Christian Centre and now provides the office support for Behest Computer Services.
Since November 2016, Heather has also been running her own business providing editorial services to self-publishing authors. To find out more, see her website.

Behest Computer Services
Together Steve and Heather are Behest Computer Services and they make a very competent team that is well able provide the computer support that you need.
And why the name Behest? Combine the first two letters of Belleguelle, Heather and Steve and you have Behest which is a word that means 'an authoritative command' reflecting the relationship we believe we should have with computers - we are in control and they do what we command.
We hope we can be of good service to you and help your computers to serve you well.
Steve and Heather Belleguelle
---